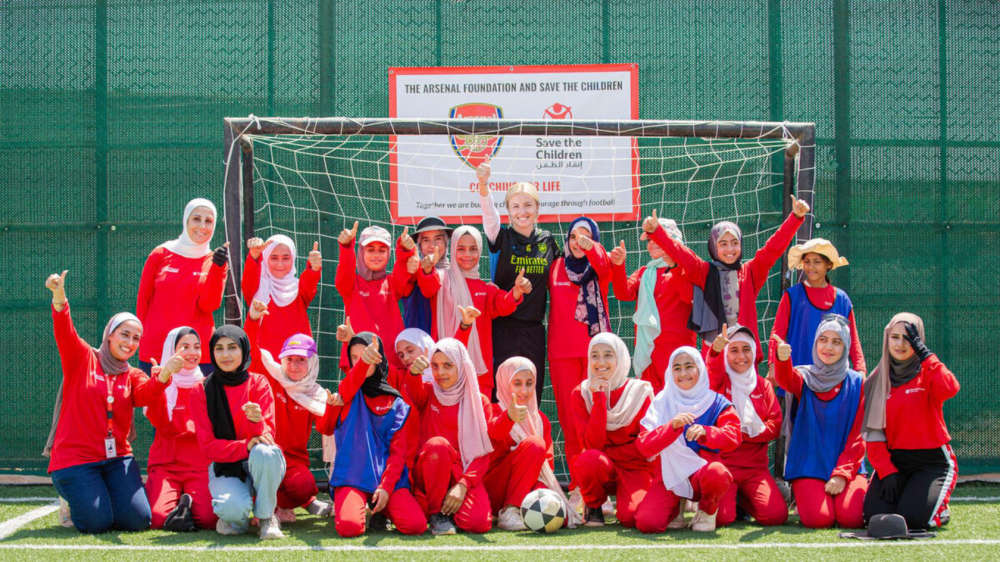 Leah Williamson today (Tuesday) becomes the first England women's footballer and first Arsenal player to take to the stage at the United Nations.
The Milton Keynes-born football star will make a plea at the UN in New York to challenge gender stereotypes and level the playing field for girls around the world.
Leah Williamson, from Newport Pagnell, has won six major trophies with Arsenal and last year, led England to their first-ever Women's EURO title last summer.
She is now joining world leaders in New York for the United Nations' Sustainability Development Goals (SDGs) Summit.
Williamson recently visited Za'atari in Jordan – the largest Syrian refugee camp in the world – where she saw first-hand what football has done for girls and entire communities there through the work of The Arsenal Foundation and Save the Children.
Leah Williamson says: "Sport has the power to change lives – but it's still not a level playing field for so many girls around the world. Football definitely changed my life. After visiting the Za'atari refugee camp, I've seen first-hand how our football programme, Coaching for Life, is helping the girls in the camp cope better with the challenges they face.
"Almost all women footballers will have a story about the challenges they faced taking up the game, but at least in countries like England and America we had a chance. In some countries, girls have social restrictions that limit their access to playing football and that has to change. Through The Arsenal Foundation's work with Save the Children, we've shown in Za'atari how we can empower girls through sport, and how boys can play an active role with us on that journey.
"At first, fathers in the camp were reluctant for their daughters to get involved – but then relented. They saw how their daughters became empowered. We are now moving towards a gender-transformative approach in the camp – and this is key all around the world as well – to address deep-rooted stereotypes. We need to involve men and boys in the conversation about positive masculinity and the barriers women and girls face."
Israa Abujamouse, Area Manager, Save the Children Jordan, adds: "Over the past five years, Coaching for Life has been a shining example of the power of partnership and has been guided by the Za'atari community from the outset. Children who have participated have shared with us that the programme has enhanced their sense of belonging, improved their relationships with their family and boosted their confidence. But it's through the support of inspiring role models like Leah that they can dream even bigger."
Leah added: "2023 marks the halfway point in the UN's Sustainable Development Goals. My message to everyone is that we have a big second half ahead but, if we work together, we can get the result we need. I've seen the progress at Za'atari, but there's still so much more to do to level the playing field for girls around the world. We need to harness the power of sport and make sure we don't leave girls behind."
Vinai Venkatesham, Chief Executive of Arsenal, says: "Everyone at the club is incredibly proud of Leah visiting the UN to advocate on behalf of girls around the world. Leah will be the first Arsenal player to do this on this stage and use our voice to champion global communities to bring progress. Having visited Za'atari and seen the impact Coaching for Life is making, I am proud we can lift the voices of children in the camp and share the power of sport and programmes like this with so many others who can make a meaningful difference to the world."
Svenja Geissmar, Chair of The Arsenal Foundation, comments: "This project has been developed by harnessing our 38 years of experience and work in Arsenal's local community in north London and, in partnership with Save the Children, we gave taken it global to one of the largest refugee camps in the world. Through evidence and research, we know this programme works – now we want to go further by maintaining equality and adapting Coaching for Life to the evolving needs of the participants and their families so it continues to make a positive impact."