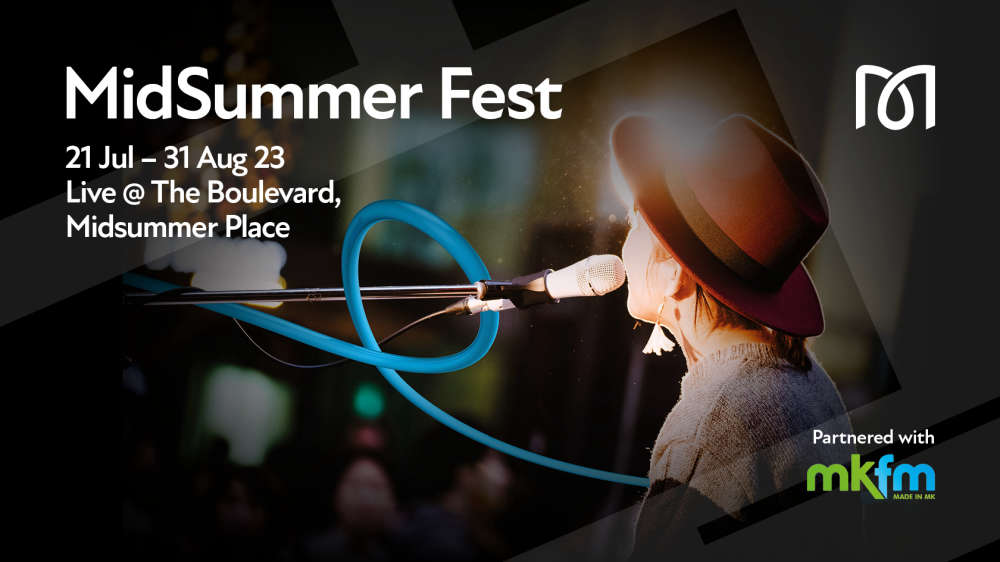 Midsummer Place, MK's premier shopping destination is thrilled to announce the launch of MidSummer Fest in partnership with MKFM, a sensational summer event that will showcase a line-up of local talented singers, performers, and comedians at The Boulevard – and entries to apply are now open!
Taking place between 21 July and 31 August, visitors can expect daily entertainment and unforgettable experiences throughout the summer set within the newly refurbished Boulevard.
In collaboration with MKFM, Midsummer Place aims to bring together the community for an extraordinary celebration of arts and culture. Established singers, performers, and comedians are invited to showcase their talent at MidSummer Fest by submitting their interest through the Midsummer Place website at www.midsummerplace.co.uk/events/midsummer-fest or filling out the submission form below.
Situated in gorgeous new The Boulevard, a vibrant and spacious area within Midsummer Place that features several stylish new independent eateries and plentiful seating, MidSummer Fest is the perfect setting to enjoy a bite to eat while enjoying the many talents the City has to offer.
"We are delighted to announce the launch of MidSummer Fest," said Kirsty McGiff, Marketing and Commercialisation Manager at Midsummer Place. "This festival will provide a platform for local talent to shine and will create a fantastic atmosphere for visitors throughout the summer. We encourage all talented individuals to seize this opportunity and showcase their skills."
To stay updated on the latest announcements and performances at MidSummer Fest, visit the Midsummer Place website at www.midsummerplace.co.uk or follow Midsummer Place on social media platforms.
For more information on the shopping centre and what's on including events, trends and sales, visit www. midsummerplace.co.uk/
Terms and Conditions
In addition to MKFM's standard Terms and Conditions, additional Midsummer Fest Terms and Conditions also apply.