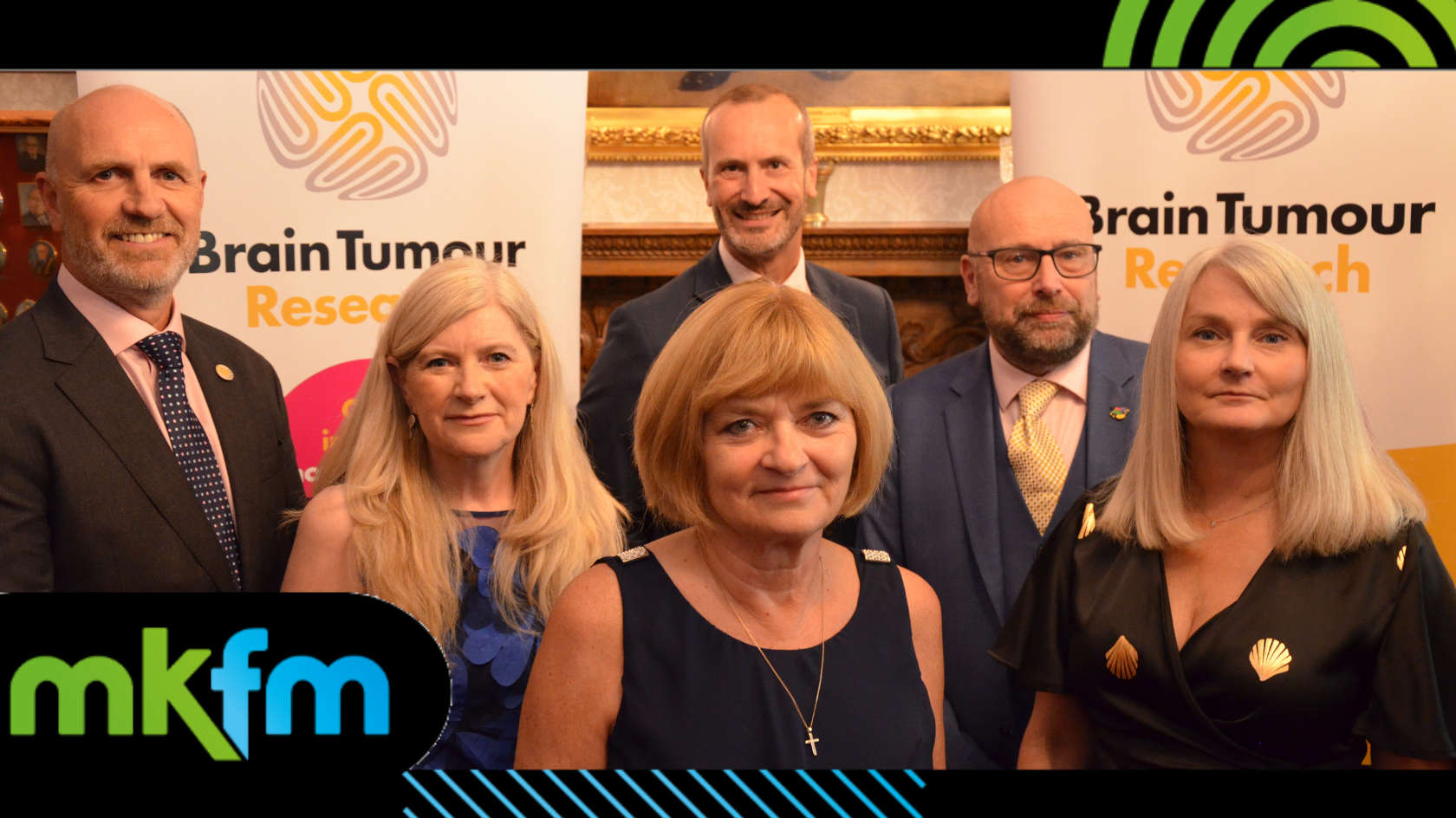 An evening of celebration marked the retirement of Sue Farrington Smith MBE, chief executive and co-founder of the Shenley Wood-based charity Brain Tumour Research.
The fundraising dinner at the Apothecaries' Hall in London on 21 September honoured the achievements of the charity under Sue's leadership since its launch from her Padbury home in 2009.
Sue and her husband Justin were joined by influential people from across the brain tumour community, including lead scientists and clinicians from the charity's four Centres of Excellence striving to find a cure for the disease, as well as chief executives and founders of other Brain Tumour Research Member Charities.
Also invited were trustees, key supporters and campaigners, and the charity's management team. Other guests included representatives from Buckinghamshire businesses who have supported the charity since its launch, including HR consultants PeopleTime and printers BCQ who sponsored the marketing materials for the event, as well as from design company Clearthinking Creative, which has since relocated to Berkshire, and developed the charity's brand pro bono prior to its launch 14 years ago. Also among the guests were two of the charity's first employees, Hugh Adams, now head of stakeholder relations, from Gawcott, and Liz Fussey, communications officer, from Buckingham.
Having lost her niece Alison Phelan to a brain tumour in 2001, just before her eighth birthday, Sue originally jointly founded Ali's Dream, a founding charity of Brain Tumour Research, with her sister Julie to fund research into paediatric brain cancer to help find a cure.
Her passion for the cause was further ignited through all the families Sue met affected by brain tumours which kill more children and adults under the age of 40 than any other cancer. Just 1% of the national spend on cancer research has been allocated to this devastating disease since records began in 2002.
In 2009 Sue led the coming together of a number of brain tumour charities to found Brain Tumour Research, with a vision to find a cure for all types of brain tumours through setting up a network of Centres of Excellence. Since its launch in the House of Commons in 2009, the charity is proud to have raised £43 million and funds four Centres of Excellence where scientists are focused on finding more effective treatments and ultimately a cure, with plans to establish a further three.
Over the intervening years, the charity has campaigned at the highest levels, along with its activists, for the Government and larger cancer charities to invest more in research into brain tumours to improve survival rates and patient outcomes in line with other cancers such as breast cancer and leukaemia. It has become the leading voice across the UK for the brain tumour community in Parliament, across social media channels and through national, regional and online media.
Speaking at the event, Sue, who was awarded an MBE for services to charity from Her Majesty Queen Elizabeth at Buckingham Palace in 2017, said: "When Ali was diagnosed with a brain stem glioma brain tumour, now known as diffuse midline glioma, we very quickly learned how bleak the outlook was for brain tumour patients. It was devastating to realise that there were no effective treatments and absolutely no cure and that we were going to lose her. It made us determined to help make a difference for families in the future affected by this devastating disease.
"The majority of you here tonight would not have asked to join this community. We were thrust into the world of brain tumours with shock and disbelief. For many of us, we were horrified that there were so few treatments and that we could not save our loved ones.
"My time at the helm of Brain Tumour Research has been the most fulfilling years of my life. I am proud of everything we have achieved so far and although I have retired as chief executive, I am still very much involved as a trustee of the charity. I am grateful to all of you who have come here tonight to celebrate Brain Tumour Research's achievements to date and grateful for all the donations to my retirement fundraising page which now stands at a wonderful more than £3,000."
Brain Tumour Research funds sustainable research at dedicated centres in the UK. It also campaigns for the Government and larger cancer charities to invest more in research into brain tumours in order to speed up new treatments for patients and, ultimately, to find a cure. The charity is the driving force behind the call for a national annual spend of £35 million in order to improve survival rates and patient outcomes in line with other cancers such as breast cancer and leukaemia.
To make a donation inspired by Sue go to the website here.