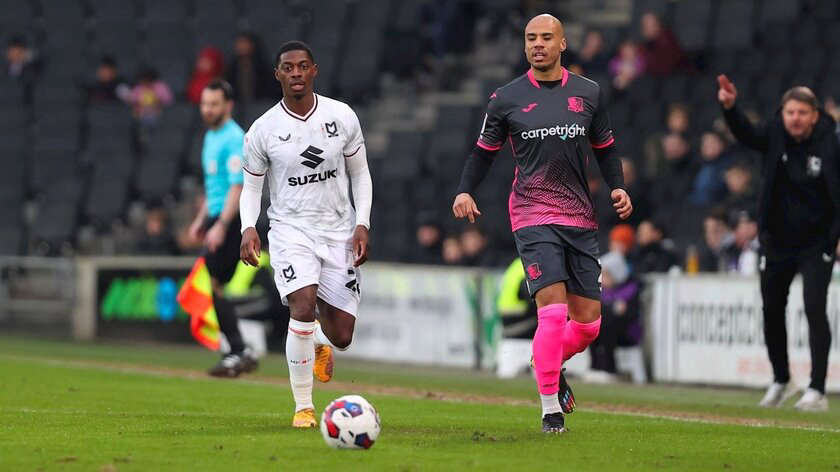 The January transfer window has slammed shut, and Milton Keynes Dons have seen nine total moves across the window.
The Dons saw Daniel Oyegoke and Louie Barry recalled from their respective loan spells, with Barry immediately loaned back out by Aston Villa to League Two side Salford City.
Matt Dennis and Dan Kemp have both also seen themselves loaned out to League Two sides Sutton United and Hartlepool United, looking to earn regular first-team football with opportunities limited at Stadium MK.
With four players out, the Dons brought in five new faces including three permanent deals.
Jonathan Leko arrived from Birmingham City for an undisclosed fee, with the right-sided winger fitting in well in the early stages of his time under Mark Jackson. With Jackson's move to a 4-3-3 system, the need for support up front was crucial and Leko was joined by fellow wide man Sullay KaiKai from Wycombe Wanderers as well as promising young striker Max Dean from Leeds United.
With the final third sorted, the Dons also brought in help for the middle and defensive thirds. Paris Maghoma, a central midfielder, joined on loan from Brentford to provide competition and balance in the middle of the pitch, while experienced centre back Anthony Stewart arrived from Scottish side Aberdeen to provide some desperately needed depth in the centre of defence after serious injuries to Dean Lewington and Warren O'Hora.
The makeup of the Dons' starting eleven looks quite different from just a few weeks ago, especially with the change in formation, and now it will be up to Jackson and co to get the best out of the personnel available and push for that much-needed League One survival.
Speaking on whether or not the team achieved what they set out to for the window, sporting director Liam Sweeting commented: "I think, when you break it down, absolutely. What's helped, obviously Mark's come in he's been extremely clear with the setup of the team, with the way that we want to go about things."
"I think people have seen the impact on the style and the intensity in pressing, certainly how we play with the 4-3-3 so far. So, strengthening in the wide areas, having people that could get us up the pitch, take, hold and carry the ball, I think it's evidenced in Jonathan [Leko] and Sullay KaiKai."
He added: "They're not only going to make us more physical but add elements to the game where they can take players on one-on-one and be exciting, be a goal threat."
"Incidentally, they're both coming off spells where they haven't been playing regularly, so there's a degree of patience that's needed but also understanding that we're here, now, in the results end of the season and we need points, we absolutely recognise that."
"Those guys have got to get up to speed quickly and I expect them to do so because they know what's required."
He continued: "Then, obviously, in the middle of the pitch is Paris. Again, somebody who is able to carry the ball, to take control in a deep position but can also play higher up and contribute driving into the box and things like that."
"I think it's extremely clear in terms of what we were trying to do, we could see what we needed, and we've absolutely added that. We've also got the bonus of Max coming in, who Mark's worked with before, and the fans would have seen a short insight into what he's about."
He concluded: "I think it's really clear to say we're in a stronger position than when we started and, on top of that, I'm quite excited the opportunities we've got for the likes of Matt Dennis and Dan Kemp as well, who we identified really needed opportunities to go and play games, so we'll also be monitoring their development really closely."